Skip to product information
Flower Pressing Pals
$ 25.00 USD Sold out
No Compromises
In Quality

Secure
Checkout

Free Shipping
Over $100
Ever wonder how people get such beautiful pressed flowers and what to do with all those pressed flowers?
Flowers are a free, renewable resource. This collection of pressed flower resources will show you how to press flowers and how to make beautiful art using flowers, even flowers from your backyard.
Topic Such as:
Introduction to Pressed Flowers

Framed Pressed Flower Art

Pressed Flower Decor

Pressed Flower Stationary

Pressed Flowers in Resin

Monthly workshops and Q&A's

A flower pressing database




How to prep specific flowers for pressing

How to use pressed flowers in various ways

How to preserve color in pressed flowers and your art

A private community of fellow pressing pals

and more!
Plus Exclusive Perks & Discounts!!
Perks
Free Returns on select items - we pay the return shipping (USA Only, excluding Alaska & Hawaii)

2x

 the affiliate commissions on referral orders

Members only access

Be the first to know about new products, etc.
VIP Customer Service & Support
Discounts
Up to 30% OFF products storewide 

(does not include subscriptions)



Up to 40% OFF all courses!

(does not include subscriptions)

FREE express shipping on ALL orders 

(USA Only, excluding Alaska & Hawaii)
 Please read the Membership Terms of Service before signing up.
Remember - The Microfleur Pressing Pals Membership is billed once per month  or once per year, on the day of the month you sign up, until cancelled.  
Get 2 months free with the Yearly Membership compared to monthly payments.
FAQ:

How do I sign up?
Simply check the box in the cart before proceeding to the checkout, or add the Pressing Pals Membership product to your cart. After checking out and completing your purchase, your subscription will be active, and you will be billed immediately. You will receive an email confirmation after sign up with additional information about the membership. 

Do I need a credit card? 
The All Access Pass requires a credit card and is an ongoing monthly or yearly payment, depending on the frequency you choose at checkout.
Do you allow refunds or returns?   
All sales are final for the Flower Pressing Pals membership/subscription.  You can cancel anytime before the next payment draft occurs each month/year, depending on the frequency you choose at checkout.
How will I login to the Pressing Pals Content Hub? 
Your login url and credentials will be sent to the email used when you went through checkout.  If you don't find it, check your spam to make sure it is not there.  If you still need help, you can reach out to us and we would be happy to assist you.
How do I use the Microfleur Pressing Pals Membership (and take advantage of all the discounted products and FREE shipping)?
Maximizing the benefits of your subscription is simple - just login here, and then proceed to shop as normal! You will see all of the member-only discounted prices in red, next to the original prices. Once your proceed to the checkout, you will have an option for free shipping. If you are not seeing the discounted prices or free shipping, please contact us directly and we will get this straightened out.
If you wish to cancel your Microfleur Pressing Pals Membership at any time, simply follow these steps: 
1. Login here using the same email you used when you signed up. Note, you may need to create an account when logging in for the first time. You must use the same email that was used at the time of sign up.
2. Click on My Subscriptions 
3. Click Manage Subscription and then click on Cancel and select the applicable reason for cancelation ** note - you will loose all access, discounts and perks if you cancel **
You will receive a confirmation by email that your subscription has been canceled.
Please read the Membership Terms of Service before signing up.
Start taking advantage of your membership immediately after sign up, with the benefits stated above.
Shipping Policy:
We ship to all locations within the United States and internationally.
Orders are typically processed and shipped within 2-3 business days.
Shipping rates will vary based on the size and weight of the item(s) and the destination.
Expedited shipping options are available for an additional cost.
See our full shipping policy here.
Frequently Bought Together
Recommended Products
Add on optional description to this section
Recently Viewed
Add on optional description to this section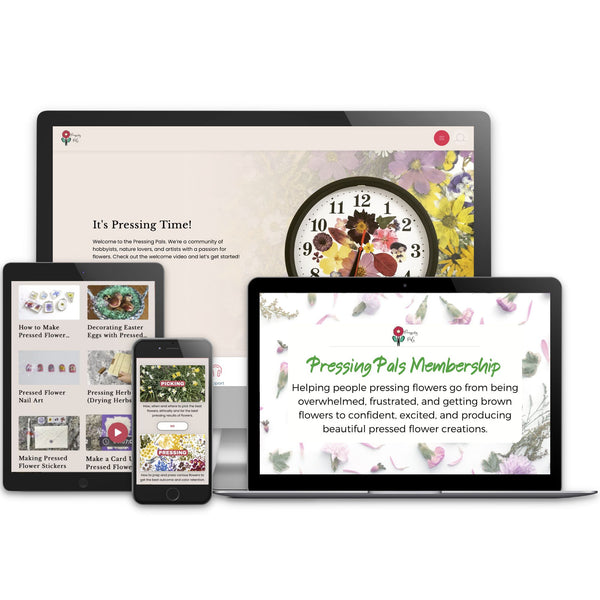 Flower Pressing Pals
$ 25.00 USD